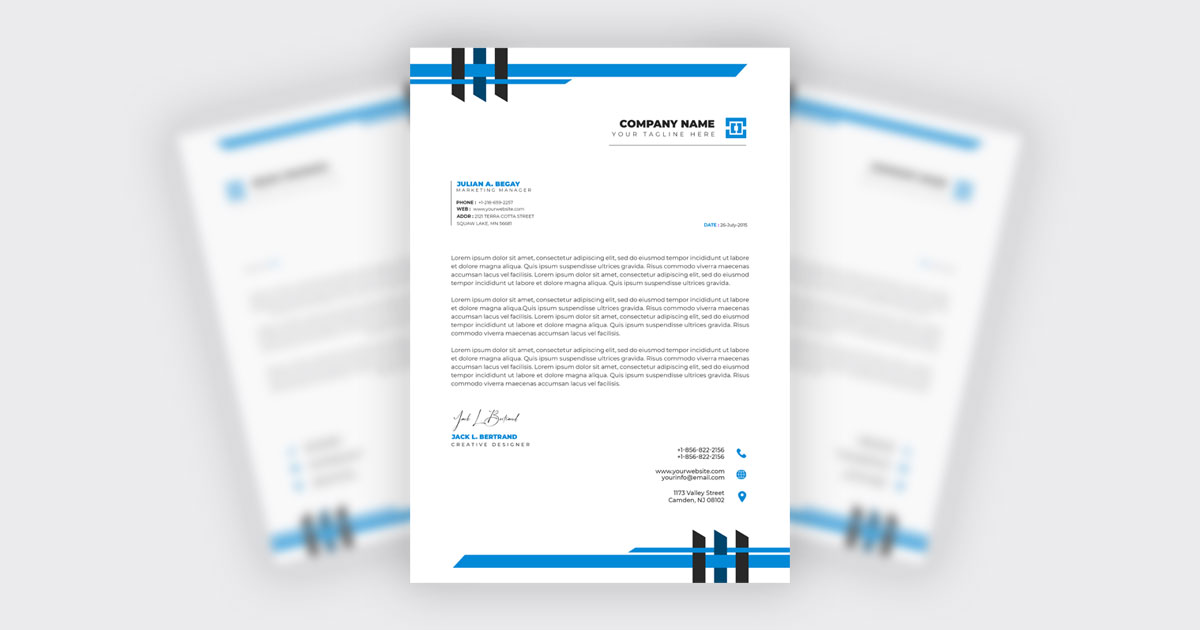 How Well-Designed Letterhead Can Boost Your Business?
Alpa
In today's digital age, where most communication happens through emails and online platforms, the importance of traditional printed materials should be considered. A well-designed letterhead is one such printed material that can significantly impact your business. A letterhead serves as a visual representation of your company's brand and can reinforce your brand identity while adding a touch of professionalism to your correspondence.
How Well-Designed Letterhead Can Boost Your Business?
Using a well-designed letterhead in your correspondence shows that you pay attention to details and are dedicated to providing excellent service. Your letterhead physically represents your business and exudes professionalism and authority. Using a letterhead can enhance your communication to a level that leaves a lasting impression on your recipients.
Additionally, a well-crafted letterhead unifies all aspects of your business communication, providing a cohesive message.

The following are a few reasons why it is beneficial:
Enhancing Brand Recognition: The logo, colour palette, and other design components that represent your business identity are all incorporated into a letterhead that has been meticulously created. Consistency throughout all of your marketing materials, including letterheads, strengthens your brand and improves customer recognition.
Creating a Lasting Impression: Your clients, business partners, and potential customers may remember you for a long time if your letterhead is visually appealing and eye-catching. A professionally designed letterhead conveys professionalism and dependability by demonstrating that you pay attention to detail and take care in your firm.
Reinforcing the Brand: A letterhead serves as a printed heading for your correspondence, prominently showing your company name, logo, and contact information. The recipients will link the letter with your company because of the continuous use of your brand characteristics, which strengthens your brand identification.
Professionalism and Credibility: A customized letterhead lends your company a trustworthy and professional impression. It sends the message to the audience that you are a reliable and established entity. You make it simple for recipients to get in touch with you and engage with your business by putting crucial details like phone numbers, email addresses, and website URLs on your letterhead.
Consistency in Design: Your visual brand will be consistent across all of your marketing materials if your letterhead is professionally produced. Your company's stationery, including letterheads and business cards, can have a unified appearance and feel by working with a graphic designer or by using letterhead templates. By remaining consistent, you may increase brand recognition and trust.
Stand Out from the Competition: You may stand out from competitors with a visually appealing and distinctive letterhead design. You can grab the recipient's attention and leave a lasting impression by including a unique design feature, such as an intriguing pattern, elegant font, or a minimalist layout.
Reflecting Professionalism in Communication: It conveys professionalism and attention to detail when you send official correspondence, such as letters, proposals, or invoices, on letterhead. A professionally designed letterhead communicates that you value professional communication with your clients and business partners and that you take your business seriously.
Strengthening Business Relationships: Building stronger corporate ties can benefit from using stationery that has been carefully developed. Your communication gains a personal touch, and the recipients feel appreciated. You may promote open channels of communication by making it simple for recipients to contact you by placing your contact information on the letterhead.
Experience The Power of Well-Designed Letterhead in Business Growth With Quickchilli
A well-designed letterhead is an effective marketing tool that may grow your business by boosting brand recognition, making an impression that sticks, reaffirming your brand identity, and giving a sense of professionalism to your correspondence. Investing in quality letterhead may have a significant impact on how people view your company, whether you choose a simple black-and-white style or a colourful and eye-catching one. So, consider hiring a graphic designer or using letterhead templates to build a letterhead that effectively reflects the business and grabs attention. Always keep in mind that you have the chance to make a good impression with every item of correspondence.
Custom letterhead design and printing services from QuickChilli may help you build a strong brand and make an excellent first impression. We provide a broad range of paper stocks, different layouts, and templates, as well as an easy ordering method for premium bespoke letterheads at affordable rates. Clients in Surrey and other cities in the UK can use our services.
QuickChilli provides cost-effective and expert in-house services for designing and printing custom letterheads. If you don't have any artwork prepared for printing on your letterheads, we can assist you in creating both the design and content. Additionally, we can print letterheads using pre-existing designs that you provide us in a print-ready format.