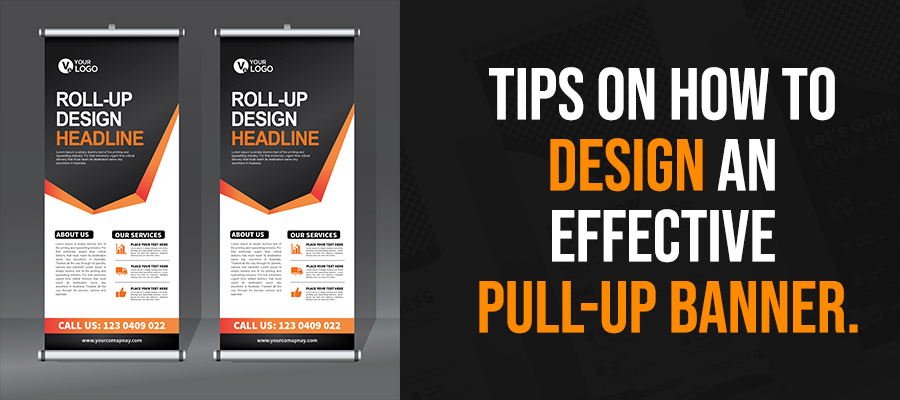 Tips On How To Design An Effective Pull-Up Banner
Alpa
Pull-up banners are a great way to promote your business without spending money on advertising. These banners are ideal for companies who want to advertise their services and products at events, festivals, fairs, and any other public gathering place. Pull-up banners are inexpensive and effective ways to get your name out there.
You do not have to limit yourself to just hanging these banners inside. You can also hang them outdoors if you wish. So, whether you are planning to hang them indoors or outdoors, you can count on pull-up banners to last.
Tips On How To Design An Effective Pull-Up Banner
Pull-up banners can be used for many things. They can be used to advertise products, services, events, and more. They can be used for marketing, fundraising, and everything else under the sun. They can be used indoors or outdoors, and they can be displayed at any time of the day. They are incredibly versatile, and they can be customised to fit your specific needs.
It is better to keep your logo at the top
Use the top of your roll-up banner to display the name and logo of your business as well as any relevant information. Why? Frequently, new viewers will look there first. Then, immediately after, deliver your main point at eye level. The likelihood is that someone will notice it when they pass by it.
Think top-to-bottom and left-to-right
When we are in school, we are all taught to read from top to bottom and from left to right, and this includes your customers. Keep this in mind when you begin organising the information flow on your banner. Just provide the information that is pertinent; your sales staff or a tabletop banner or background can give more information.
Use High-Quality Images
Banners were essentially created because everyone wanted to utilise images on them. Therefore, any print-ready images you intend to use on your banners should be saved as CMYK (Cyan, Magenta, Yellow, Black) rather than RGB, with a resolution of 300 dpi.
Go double-sided
Double-sided pull-up banners provide twice as much exposure with the same amount of space. They are perfect for huge areas or circumstances when your banner is displayed in the middle of a room or shop.
If you want to continue your message on the opposite side, repeat the design there as well. Make sure there is a consistent aesthetic if you use various designs for the front and back. The use of a constant footer or a comparable look and feel with slightly varied messaging can accomplish this.
Colour
Although colours might help you stand out, they must be compatible with your corporate identity. It is crucial to take into account how backdrop colour affects text and images. All images and text must be legible and clear. Red and orange are two vibrant colours that can truly catch your attention, but stay away from using yellow and white together as this makes it harder to see text. Contrast is crucial.
Contact details
Include your contact information when constructing your pull-up banner. This is crucial for an exhibition when you might not have the opportunity to interact with every visitor. Contact information should be easy to read and is often best placed near the bottom of a pull-up banner. Include your email address, website, and phone number.
Get Your Banner Perfectly Designed By Us!
Pop-up banners or roller banners, also known as pull-up display banners, are fantastic options for advertising display. Firms most frequently use them to promote trade shows and exhibits since they are incredibly lightweight and simple to set up and take down and are extremely lightweight.
Surrey-based Quickchilli is a digital branding agency. We provide strong, long-lasting, premium pull-up banners that are printed and made to last. The pull-up banners are lightweight and ideal for moving between offices, events, and shows.