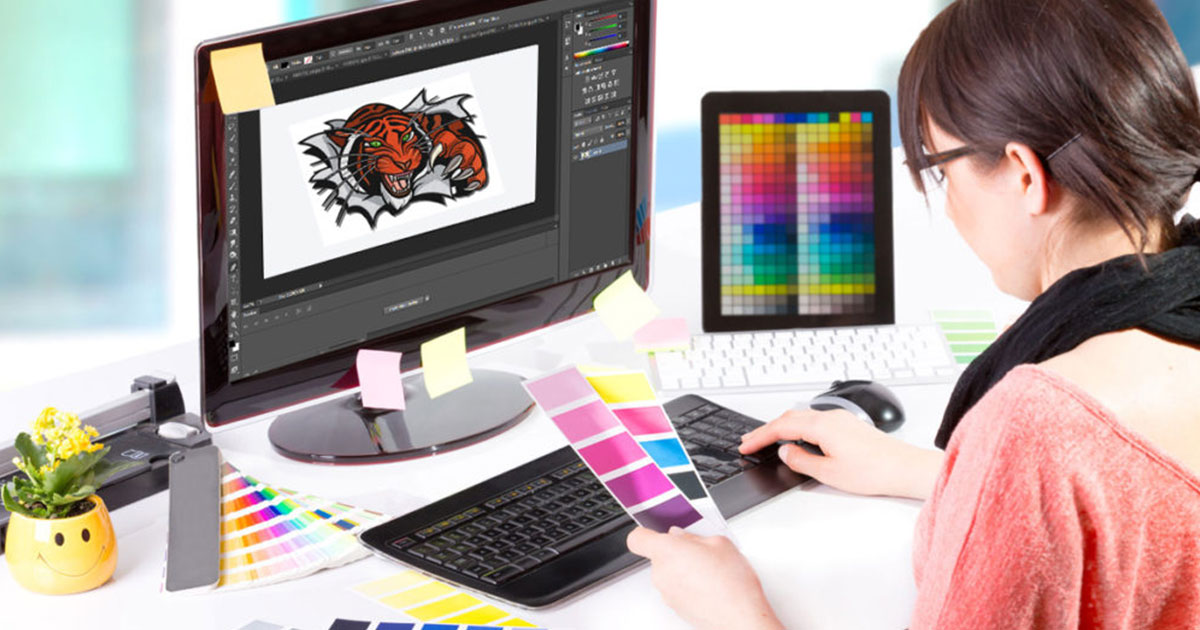 Your guide to Embroidery digitizing
Paul Venning-Pridham
The process of converting a design into a digital file for embroidery purposes is known as embroidery digitizing. The digitized design is saved as embroidery file formats enabling the embroidery machines to define the needle's path.
What do you mean by Embroidery digitizing?
The process of digitizing is not automated and requires a lot of detailing and knowledge. Embroidery digitizing is considered an art form if done correctly. Most of the embroidery machines have embroidery software that controls the designing process and controls the functions by reading instructions from a digitized file.
Embroidery machines cannot read and decrypt the types of files a computer can hence one needs to digitize the design in a file type understandable and readable by the embroidery machines. A digitizer or embroidery designer has to convert a JPG or PNG file of a client's company logo or graphic design and convert into an embroidery file.
In simple words, embroidery digitizing is the process of using digitizing software for creating a machine embroidery design file with a set of instructions and commands telling the embroidery machine how to stitch out the final design on the garment.
Though the process may sound simple, there is a lot more to embroidery digitizing than meets the eye. It is like painting using stitches and similar to painting, certain rules are applicable to digitizing too. Digitizing is all about selecting the appropriate stitch type and the stitch directions. It is about understanding the stitch counts and thread breaks.
Digitization for embroidery or logo digitization involves converting any graphic design into stunning embroidery stitches that can be replicated on any fabric or garment. Digitized embroidery is completely different from screen printing. Screen printing is all about graphic designs whereas embroidery is all about stitches. Digitized embroidery is dependent on a specific embroidery machine, corresponding digitizing software and a professional embroidery digitizer.
Both the methods can be used for printing or creating customized merchandise or promotional material for a business. It is your choice whether you want screen printing or digitized embroidery on your merchandise.
What can be digitized? What is the embroidery digitization process?
You can digitize any type of vector art or images into your own custom embroidery design. Whether it is a simple child's drawing or a company's logo or any complex design, they all can be digitized. A professional embroidery digitizing service provider can help digitize any design you wish and get it embroidered on any garment or merchandise you want.
If you want to embroider a custom embroidery logo on a cap, T-shirt, jacket, or another garment, the first step is to create a logo for your company. You can either draw your logo on paper or can get it professionally designed on a software. Once the logo is ready, send the design with the embroidery requirements to the digitizer. It is important to mention specifics like the size of the logo, whether you want 3d puff embroidery or non-3d, what are the embroidery machine formats etc. Once the digitizer receives the details they will convert the logo or design into digitized embroidery using special embroidery machines and software.
Embroidery digitizing services from QuickChilli
QuickChilli is a creative designing and branding agency based out of Surrey. Over the past several years, we have been digitizing for the UK market. We have worked with schools, colleges, businesses and helped digitize the artwork provided by them into an embroidery file ready to be embroidered. We also have a team of designers who can help design the logo or artwork which can be further digitized for embroidery.
We take great time and care while digitizing the embroidery work, to ensure the stitch count is ideal for the design to run quickly on the machine. We take great efforts to ensure the final design looks great when embroidered on the garment.
Our highly experienced designers and digitizers can convert any complex design into fine embroidery work. We have worked not only on simple logos but also created complex designs with high stitch counts. We take immense care and focus on the smallest of the details, ensuring the digitized file is of the best quality.